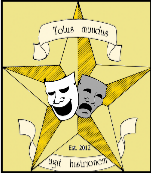 Box Office

(682) 231-0082


Performance Venue

All TART productions
are performed at the
Fort Worth Community Arts Center, located at 1300 Gendy Street, Fort Worth, TX 76107. Click here for directions.


Support




The Tarrant Actors Regional Theatre is a 501(c)(3) non-profit Texas corporation. All donations are tax-deductible to the fullest extent of federal law.


Join Us

Visit our Get Involved page for information on how you can be a TART supporter. Click here to join our mailing list.

Copyright 2016, Tarrant Actors Regional Theatre. All rights reserved.

Laura
by Vera Caspary & George Sklar
directed by Allen Walker
September 8-24, 2017

t's August 1944 in New York City,
and when detective Mark
McPherson first falls in love with
Laura Hunt, he knows he's in love
with a phantom -- for Laura is dead,
and he's in charge of her murder
investigation. From her portrait, her
letters, her personal effects, and from
his contacts with the three men who
loved her, Mark has created an image
of a woman tantalizingly real. As the
story progresses, Mark discovers lies,
infidelities, and hidden identities, all leading him into a labyrinthine search for Laura's killer. Riddled with surprises, full of dynamic characters and rich, fast-moving dialogue,

Laura

is a thrilling mystery in the

film noir

style that will keep audiences guessing "whodunnit" right up to the final scene.

"...[a] story which is filled with mystery, murder, romance, comedy, and unrequited love."
-- MD Theatre Guide

"...a well-acted, entertaining suspense dramedy, particularly for those with a
fondness for the fabulous '40's." --StageSceneLA


Auditions for

Laura

will be held in early June. Rehearsals will begin in mid- to late-July. For more information, please email us at info@thetart.org, or call (682) 231-0082 between 10 a.m. and 3 p.m. Monday through Friday.