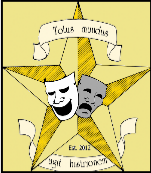 Box Office

(682) 231-0082


Performance Venue

All TART productions
are performed at the
Fort Worth Community Arts Center, located at 1300 Gendy Street, Fort Worth, TX 76107. Click here for directions.


Support




The Tarrant Actors Regional Theatre is a 501(c)(3) non-profit Texas corporation. All donations are tax-deductible to the fullest extent of federal law.


Join Us

Visit our Get Involved page for information on how you can be a TART supporter. Click here to join our mailing list.


Copyright 2016, Tarrant Actors Regional Theatre. All rights reserved.

Bright Ideas
by Eric Coble
directed by Alex Krus
January 12-28, 2018

ow far would you go for the
success of your child? For
Generva and Joshua Bradley, the
question is no longer hypothetical.
Their three-year-old son, Mac, is
next on the waiting list to get into
the Bright Ideas Early Childhood
Development Academy -- and
everyone knows once you're in there,
your life will unfold with glorious
ease. Josh and Gen have had to
scramble all their lives to get this
far . . . and now they are one fatal dinner party away from the ultimate success as parents: The Right Pre-School. You may never look at pre-school -- or
pesto -- the same way again.

"Eric Coble's deliciously black comedy benefits from hilariously funny, psychologically astute portraits . . . the near surreal spoof hits home with rib-tickling acuity . . ." -- The New York Times

"A tidy little gem of comic insanity." -- Variety


Auditions for

Bright Ideas

will be held in November, and rehearsals will begin shortly thereafter. For more information, please email us at info@thetart.org, or call (682) 231-0082 between 10 a.m. and 3 p.m. Monday through Friday.